MCTRL660 Novastar Led Display Controller ist der neueste unabhängige Master-Controller von NovaStar , der hauptsächlich für die Vermietung von LED- Displays eingesetzt wird.
Es unterstützt die Konfiguration des LED-Bildschirms zu jeder Zeit ohne Computer.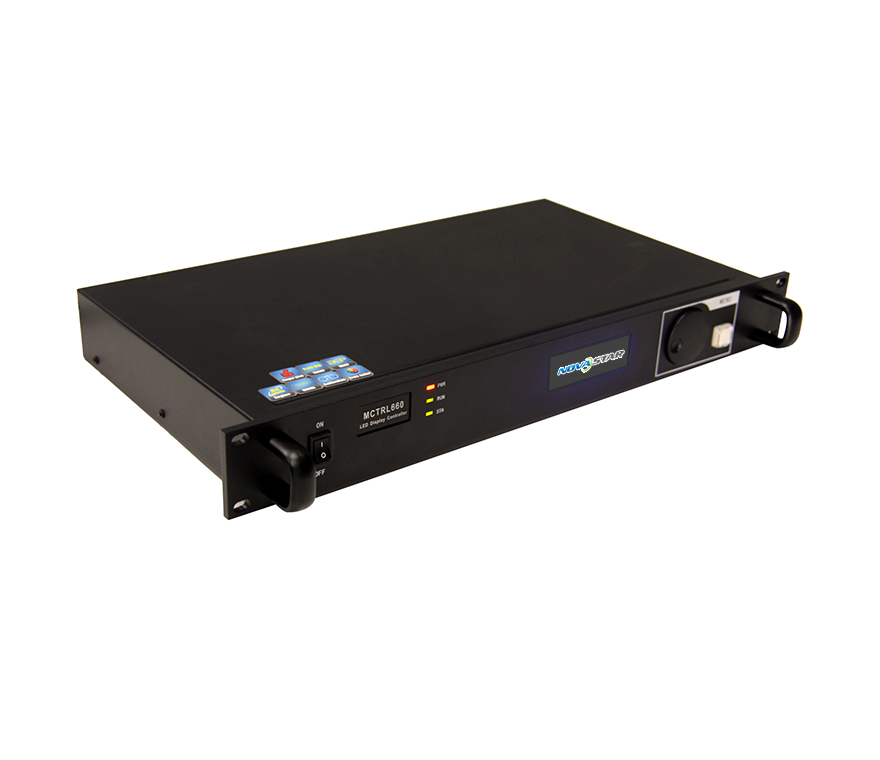 1) Es hat ein innovatives Design angenommen, um eine intelligente Konfiguration zu implementieren, und die Bildschirmkonfiguration kann innerhalb von 30 Sekunden abgeschlossen werden;
2) Es hat Nova G4 Motor übernommen, der den LED- Bildschirm stabil und flimmerfrei macht, ohne Zeilen zu scannen. Die Bilder werden exquisit und bringen ein gutes Gefühl von Tiefe;
3) Es unterstützt Nova's neue Pixel-für-Pixel-Kalibrierungstechnologie, die schnell und effizient ist;
4) Es kann eine Weißabgleichskalibrierung und eine Farbraumabbildung basierend auf verschiedenen Eigenschaften von LEDs, die von Anzeigen verwendet werden, implementieren, um die Wiederherstellung von echten Farben sicherzustellen;
5) Es ist das einzige Steuerungssystem, das den Eingang von 12-Bit-High-Definition-Multimedia-Schnittstelle (HDMI) und High-Bandbreiten-Digital-Content-Schutz (HDCP) in China unterstützt;
6) Es unterstützt LED- Bildschirm Konfiguration jederzeit ohne Computer;
7) Es unterstützt manuelle Anpassung der LED- Bildschirm Helligkeit, die bequem und effizient ist. Diese Merkmale haben die speziellen Bedürfnisse des Display-Verleih-Service in höchstem Maße erfüllt;
8) HDMI / DVI-Eingang;
9) HDMI / DVI Ausgang;
10) HDMI / externer Audioeingang;
11) 12-Bit / 10-Bit / 8-Bit-HD-Videoquelle;
12) Unterstützte Auflösung: 2048 × 1152,1920 × 1200,2560 × 960;
13) unterstützte Auflösung: 1440 × 900, (12 Bit / 10 Bit);
14) Kaskadierung unterstützt;
15) 18-Bit-Graustufenverarbeitung und -darstellung;
16) Videoformat: RGB, YCrCb4: 2: 2, YCrCb4: 4: 4.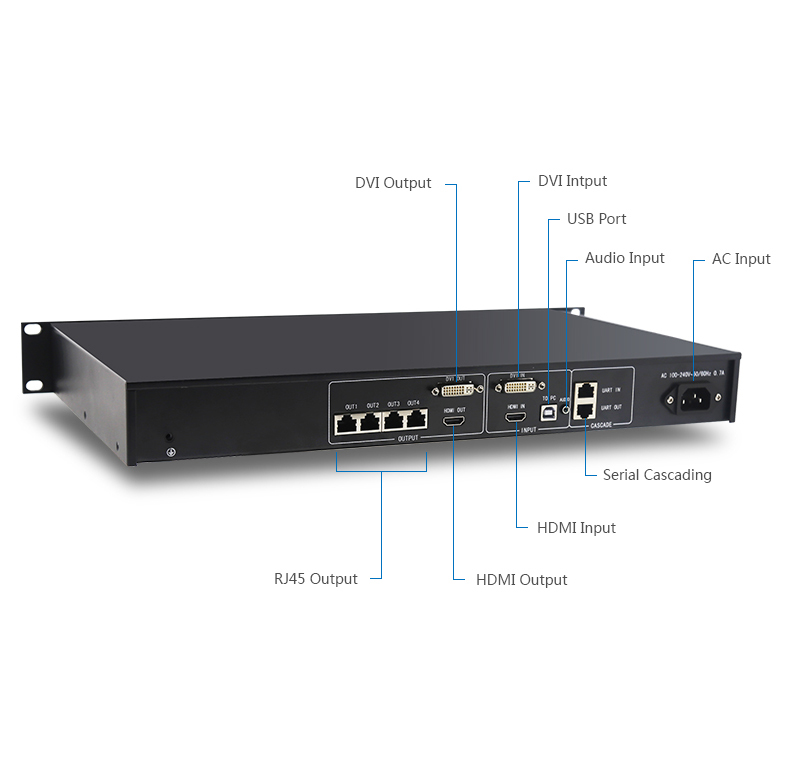 Input index

Interface

Resolution specification

DVI

VESA standard (support 1080i input); support HDCP

HDMI

EIA/CEA-861 standard; meet HDMI-1.3 standard; support HDCP
Output index

Interface

Number

Resolution specification

DVI

1

Correspond with DVI input

HDMI

1

Correspond with HDMI input
Control interface

Port

Number

Instruction

TO PC(USB)

1

Control interface of upper computer
Specification for complete machine

Input power

AC 100-240V, 50/60Hz

Power consumption of complete machine

16W

Working temperature

-20~60℃

Dimension

483×273.5×55.56(MM)

Weight

5.3Kg

Input power

3.9 Kg

USB Cable

1.5M

DVI Cable

1.5M

①:Indicate the power indicator;
②:LED Indicator
PWR: Indicate the power indicator.
RUN: Indicate equipment running indicator 1. It blinks quickly when no video source is available and blinks normally when a video source is available. when the redundancy works, the indicator fades gradually.
STA: Indicate equipment running indicator 2. It is steady on when the equipment runs normally and blinks during authorization.
③: Operation screen.

A. Indicate access of a video source on the HDMI. It blinks in the case of no video source input.
B. Indicate that the machine is in the master mode.
C. Indicate that the resolution is 1920 x 1080 pixels and that the frame frequency is 60 Hz.
D. Indicate that the current brightness of the screen is 50%.
E. Indicate that network interface 2 has loads.
④: Knob: Press the knob to enter the option and rotate the knob to conduct selection or adjustment.
⑤: ESC: Exit from the current operation or option.

Hinweise: Die Anordnung der Schnittstelle kann leicht angepasst werden, um das Benutzererlebnis zu verbessern. Bitte in Naturalien durchsetzen.
INPUTS

AUDIO

Audio INPUT

HDMI IN

HDMI INPUT

DVI IN

DVI INPUT

OUTPUTS

DVI OUT

DVI OUTPUT

HDMI OUT

HDMI OUTPUT

OUT1~4

4 LED OUTPUTS

Control

TO PC

Connect to PC , USB Control interface

UART IN.OUT

Cascaded INPUT .OUTPUT

POWER

AC-100-240V-50/60HZ

AC Power interface
Produktgruppe : LED-Anzeige-Controller > Novastar Steuersystem